Unlocking the Potential of Robotic Process Automation in Healthcare in the Digital Age
by Gareth Smith, on 8/13/19
In a recent article in the Enterprisers Project, Kevin Casey wrote, "If it's repetitive and manual, it's probably a good fit for RPA."
RPA 101: Understanding What Robotic Process Automation Is and Isn't
RPA, short for Robotic Process Automation, can significantly benefit healthcare organizations when it comes to handling repetitive and manual tasks. By implementing RPA, companies can streamline processes, minimize errors, save costs, and improve productivity.
Perhaps because it contains the word "automation," there is often an assumption that RPA requires a significant amount of developer involvement, but, in fact, the opposite is true.
The beauty of RPA is that it actually simplifies manual developer processes and enhances business users' productivity by allowing them to concentrate on more strategic responsibilities. Besides, RPA reduces the errors typically caused by human intervention in repetitive work, making the process more streamlined.
Best Practices for Successful RPA Deployment
RPA (Robotic Process Automation) is evolving at a fast pace, and companies are increasingly adopting it as part of their digital transformation initiatives over the past year. However, to ensure a successful implementation, it's vital to have a well-defined process in place from the outset, even as more organizations adopt RPA. By doing so, companies can maximize the benefits of RPA, such as streamlining their workflow, reducing errors, and freeing up employees' time, among others.
That likely sounds like a no-brainer, but it's actually not as straightforward as it seems. As Eggplant's Antony Edwards put it when interviewed for the Kevin Casey piece,
For example, you try and do RPA for invoice approval, but you didn't realize that there are actually about 30 different approval processes in the company—because of acquisitions, because this SVP doesn't like the new process, etc."
Once you've confirmed that the process you're eyeing for RPA truly is clearly defined, the following are some additional criteria to consider:
Transaction volume

Prone to errors or rework

Amount of manual work

Process predictability
Some of the best business use cases of RPA we've seen have been in the healthcare sector. For example, the patient registration process can be significantly improved with RPA, as can patient communication and revenue cycle management. Other examples include big data management (gathering patient health data from multiple sources and inputting it into spreadsheets) and interoperability (ensuring data exchange across multiple health systems).
Exploring the Future of Robotic Process Automation
Advanced RPA implementation involves automating processes across various devices and user types, such as retrieving data from an Excel sheet on a PC, inputting it into a mobile expense report on an iPad, and finally entering a record in the company's mainframe.
As the technology gains broader acceptance and businesses progress further in their digital transformation endeavors, we can anticipate more sophisticated examples of RPA in action.
More advanced RPA use cases offer the healthcare industry numerous benefits, including streamlining their clinical workflows from end to end, enhancing physicians' productivity, saving resources, and more.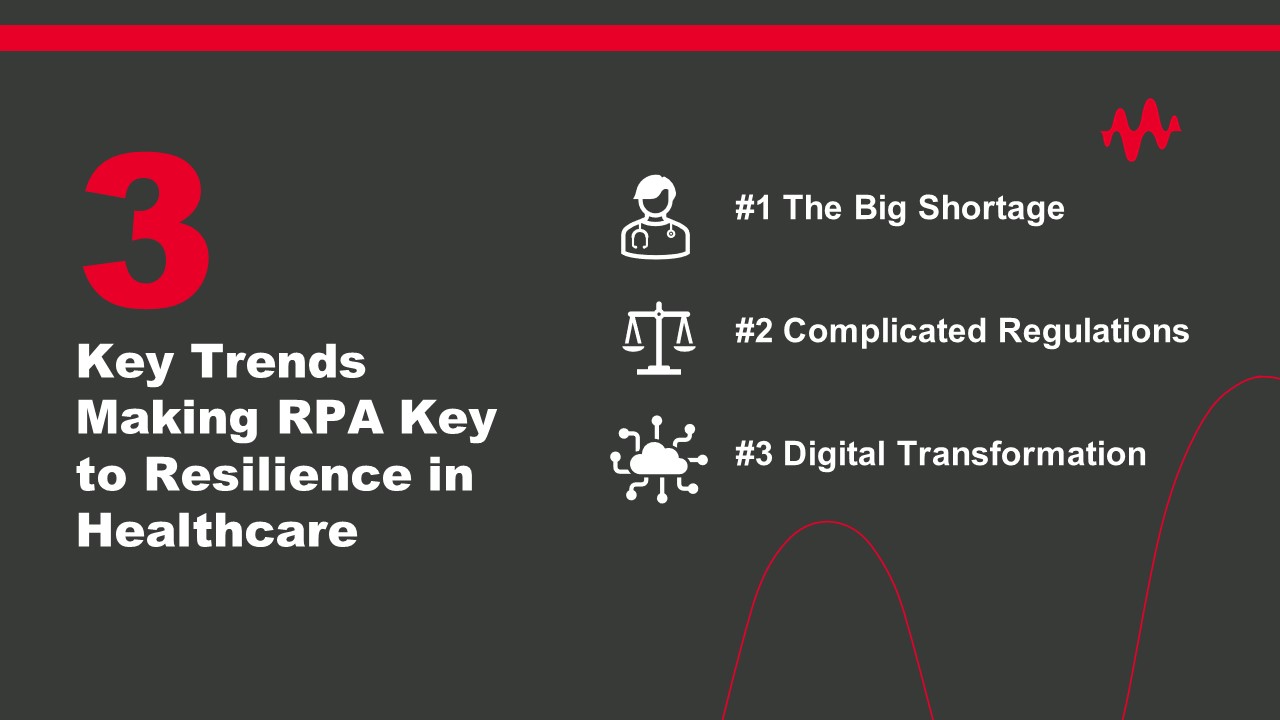 More Resources
Join our webinar to discover how RPA technology combined with AI can help alleviate healthcare worker burnout. With RPA 2.0's advanced features, healthcare providers can automate end-to-end workflows, allowing them to focus on more critical tasks.