Quality and Better Customer Experiences – Eggplanet London, 2019
by Candice Arnold, on 6/10/19
Quality. It's what everyone involved in designing, building, testing, and maintaining software strives to deliver. And it was very much the common thread running through our inaugural Eggplanet conference in London on 6 June.
Billed as the event where continuous quality meets business outcomes and, thanks to an inspiring group of speakers and wonderfully engaged delegates, it didn't disappoint.
The venue was the iconic Sea Containers building on the south bank of the Thames, and visitors were treated to stunning views across London as they enjoyed breakfast in the rooftop bar before heading downstairs for the main event.
World poetry-slam Champion Harry Baker, kickstarted the day, raising laughs and injecting energy, getting everyone ready and engaged for what was to come.
Next came the keynote speaker, Diego Lo Giudice, VP & Principal Analyst from Forrester Consulting, who talked about how poor-quality software puts businesses at risk, and how AI and automation can help put technology at the heart of business strategy. He also revealed some surprising insights from a commissioned study conducted by Forrester Consulting on behalf of Eggplant, which you can download here.
Diego was followed by Eggplant's CEO, Dr John Bates, and VP, Global Technical Services, Max Gerrard, who outlined Eggplant's vision for the future and offered exciting glimpses into some of the latest capabilities of its product suites. Do navigate to Slideshare to clip a slide and have a read through the content shared.
Delivering quality means putting the customer at the heart of development and testing, which was very much the theme of the presentations from Michael Giacometti, Eggplant's Director of Global Alliances and Strategic Partnerships, and Michael Rolph, CEO of Yoyo Wallet.
Our Genius Bar allowed delegates to get a hands-on look at our software and how it solves real-world DevOps challenges.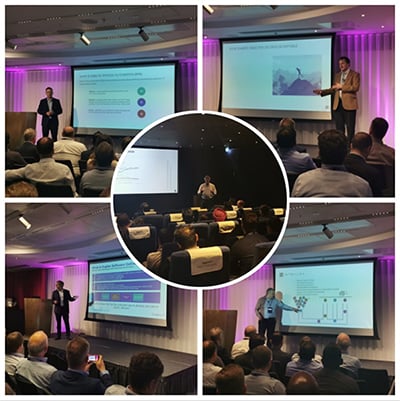 Eggplant has a growing and vibrant partner ecosystem and was joined by IntelliQA, our robotics partner and Expleo, a global technology services for the day.
Paul Kaye, CEO of IntelliQA, and Graeme Clarke, Global DevOps Service Lead and Senior Manager, Expleo, gave revealing and insightful accounts of projects they had been working on, in AI and robotics and quality analytics respectively.
Up next was Matthew Hobbs, Head of Frontend at the Government Digital Service, who spoke about the importance of delivering fast, reliable online experiences to all users, including the surprisingly high numbers of people on legacy devices or with poor connectivity.
The day was rounded off with an energetic presentation from the well-known software consultant Paul Gerrard. Paul shared his experiences of developing a training program that, among other things, will help to embed critical thinking skills required by software testers in a changing world.
Our heartfelt thanks go to all our speakers, sponsors, our facilitator, Kevin Downey, who helped maintain the energy and pace of the event, and last, but not certainly not least, the delegates, who made it a successful, enjoyable day for everyone.
You can watch highlights from the day here.
Finally, our second Eggplanet event is already scheduled for 9–10 October and will be held in Philadelphia. Get your ticket now!