Prioritize Website Performance Improvements with Performance Impact Prediction
by Philip Vandenberg, on 4/11/19
Performance impact prediction is a key part of our Customer Experience Insights product suite. It analyzes website performance, showing how load times relate to conversion, bounce rate, session length, and revenue. This data can be then used to predict what will happen to these KPIs by making incremental speed improvements.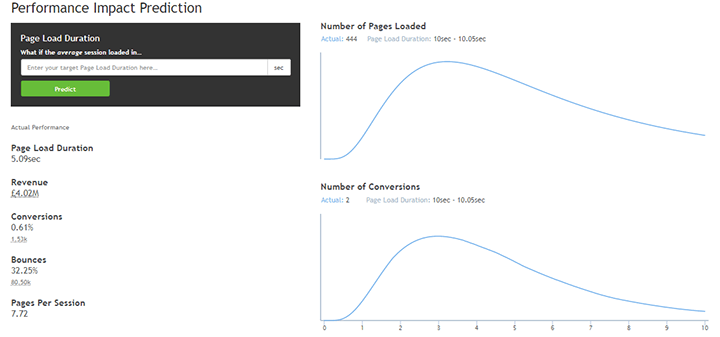 Figure 1 – setting a baseline
This process works through real user monitoring that captures every interaction with the website and tracks the conversions and bounces for each session. As shown in Figure 1, it can then use these metrics as a baseline for the reporting period giving the average page load time, together with more business-focused metrics: revenue, conversion, and bounces.
By setting a new, target page load duration time for the website, we can see how the new download speed would have affected revenue, conversion, and bounces in the same period.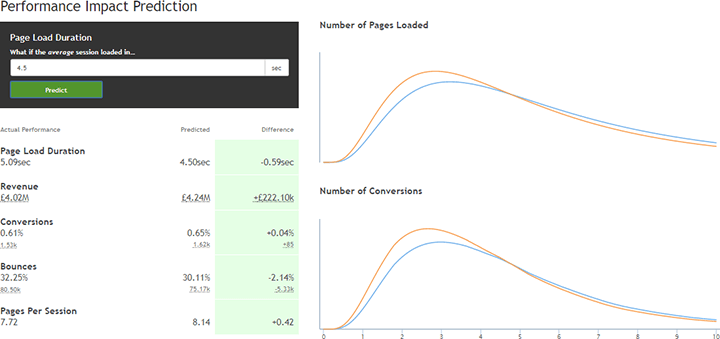 Figure 2 – predicting changes in business KPIs as a result of faster load times
In our example above, Figure 2, the prediction is based on page load time for the website being 0.59 seconds faster, at 4.5 seconds, and the reporting period is 14 days. Performance impact prediction reveals that the same traffic would have generated an increase in conversions of 0.04%, equating to over £222K ($290K) of revenue—approximately a 5% increase, or £5.7m ($7.5m) across the year. Additionally, the report suggests that the bounce rate would reduce by 2.14%, while the average number of pages per session would increase.
Using this process, it is possible to determine the cost-effectiveness of optimizing a website for speed, as the potential revenue impact can be modeled and included in the supporting business case.
So far, Eggplant's proprietary algorithms in the prediction engine have proven remarkably accurate. However, the real value is in its ability to help you target investment to yield a much higher return.
Targeted website performance improvements
In our example above, we used a 0.59 second target speed improvement. While this may seem like a small incremental improvement of only 10%, the reality is that achieving this site-wide may be neither a quick nor a trivial task. This could be due to technical complexities of the website and how it is structured. Then there are the development and operational processes required to deliver these benefits, especially when other revenue generating activities must be prioritized as well.
Therefore, it is often easier to adopt a more targeted and nimbler approach, and performance impact prediction can help prioritize the necessary enhancements.
Figures 1 and 2 are based on a site-wide set of website visitor observations, but what if we were to consider improving web performance only on tablet devices?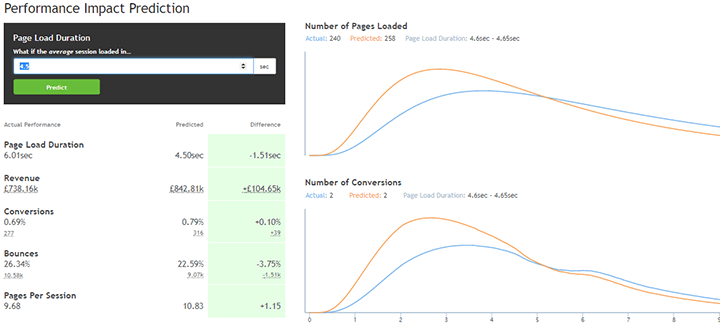 Figure 3 – filtering on tablet devices
In Figure 3 we have set a filter on the device type so that only tablet devices are considered.
Unsurprisingly, we can now see that the page download duration baseline for tablet devices is much higher at 6.01 seconds than the overall site-wide baseline in Figure 1. Although there is significantly less traffic on these devices, visitors appear more tolerant of the slower performance, as the conversion rate is 0.08% higher than on the website as a whole.
It is not uncommon for web pages on tablet devices to be based on the same set of responsive design rules that apply to the desktop version. Typically, this approach is a major contributor to poorer performance on tablet devices. It is also an opportunity to make the page more adaptive to the tablet's characteristics, crafting it to suit the viewport and physical performance capabilities of the device. Consequently, improving the page by 1.5 seconds to the 4.5 second average in Figure 1 is both pragmatic and achievable.
Figure 3 shows a predicted increase of £68K ($89K) in revenue, up from £738K ($965K), over a 9% improvement. All other KPIs also benefit.
Although it is not without its challenges, delivering a web performance project that targets tablet devices is much easier than a web performance project that targets the entire website. Focus on a set of devices, and the enhancements necessary can be structured into smaller and more manageable user stories in the sprint backlog.
Further considerations
Our examples show just a couple of cases, but it is possible to run any number of models to determine the potential investment benefit when prioritizing website enhancements.
There is a broad range of filters, including browser, operating system and viewport size, and these filters can be combined so that predictions can be targeted at a highly granular level. The processes are repeatable and can be conducted over different time periods, delivering a high degree of confidence when determining priorities and setting expectations of potential benefits.
Consequently, performance impact prediction can be invaluable to have at your disposal when developing a continual improvement program for your website.
Learn more about Customer Experience Insights or try Eggplant to see how you can benefit from targeted improvements in website speed. You might also be interested in our on-demand webinar on Conversion Rate Optimization.