JB Brockman - 18 October 2017
We recently commissioned a study of 750 development team leaders in the UK and the U.S. to gauge the extent of the pressure today's organizations are experiencing with respect to app development. On the same day that we announced our App Gap research results—revealing that almost half of businesses feel the pressure to launch often untested apps—we hosted the first in our series of our Digital Automation Intelligence Roadshows.
At the event, the research met with empathetic nods from the audience at Altitude in Millbank Tower, London. The audience, consisting of automation and testing specialists from a range of sectors including retail, banking, finance, government, and technology, agreed that the pressure to do more with less time has increased substantially over the past few years.
The need for intelligent automation in testing was a message that really resonated with attendees, who agreed that the test market is primed to experience a disruption similar to what's happened with trading technology—a move toward providing greater intelligence and automation, turning technical metrics into business analytics.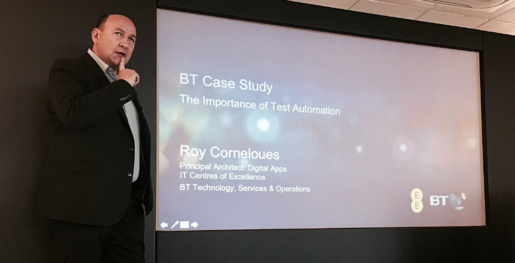 Roy Corneloues, Principal Architect: Digital Apps at BT (a Testplant customer), shared the history of BT's app roadmap, discussing some of the challenges BT has overcome during its digital transformation over the past few years and some of the significant benefits automation has brought to the organization.
"The more you can automate regression testing, the more benefits you get for free," he said. "Agility is hard. But automation is key to any development strategy. Using Eggplant, we have reduced testing from weeks to hours."
Tesplant CEO John Bates also contributed to the automation theme, referencing a 1997 survey of developers, where most were adopting aspects of automation, yet less than 1 percent were seeing the benefits.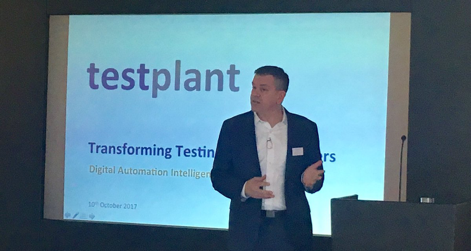 "Given this 20-year view, with the huge changes in software from monolithic architectures to API-driven micro environments which need to work across fixed and mobile, the only way for organizations to overcome testing challenges is to fix the focus on the technology and switch it to the customer journey and the user experience—through intelligent automation of course," he said. "Yet for many customers, the shocking fact is that manual testing is still going on as it is too hard to automate the process. This should just no longer be the case."
Testplant CTO Antony Edwards reinforced the urgency to transform testing from a compliance function to one that delights customers. Antony predicted that amazing digital experiences would only come with a new approach to testing, and outlined the five principles of Digital Automation Intelligence:
Test through the eyes of the user.

Test the digital experience continuously.

Expand automation beyond test execution.

Use data to guide the test process.

Report quality in terms of the user with predictive analytics.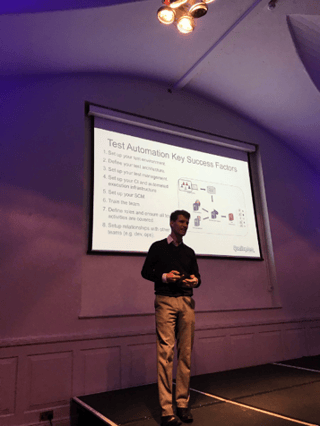 To reinforce the importance of these five principles, Antony shared a shocking statistic: how only a minute slowdown in website performance can have an actual percentage impact on company revenues.
Despite this, only 5 percent of organizations have adopted continuous user experience testing. "Again, this may have been acceptable 20 years ago, but should certainly not be the case now," said Antony. He also expressed how testing teams have access to vast amounts of data that goes unused. "We are so lucky to have access to so much intelligence through data," Antony said. "But no one uses it. Now is the time to drive change."
One thing everyone agreed upon: The new world of testing has to be about user satisfaction and handling complex architecture and multiple platforms. Organizations need a new approach to testing that is straightforward; drives automation toward greater productivity; and focuses on user satisfaction, engagement, conversion, retention—and revenue. Only by bridging these testing gaps are you on the path to achieving disruption.
Get in on the conversation. Join our next roadshow in Dallas, or Philadelphia.
Check out the full research.