Kickstart AI-Powered Software Testing at A Lower Risk
by Emily Yan, on 3/17/23
At Keysight, we are committed to transforming the future of software testing by making automation simple and reliable. As we look back on our journey, we're proud of having helped tens of thousands of quality assurance teams automate testing from end to end and deliver exceptional digital experiences. Our contributions have impacted some of the world's most critical missions, from the COVID-19 virus tracking initiatives to the launch of NASA's Orion spacecraft.
Based on our experience working with customers across multiple industries, we know that software testing challenges are unique to each organization. And we want to help more businesses effortlessly harness the potential of automation, to drive efficiency, especially in today's challenging economic conditions.
We are pleased to introduce a three-month Quick Start Program. This program, designed for organizations that are new to Eggplant, enables you to experience the full power of Eggplant Test risk-free. This blog post quickly walks you through the program and shows you how to get the most out of it.

How It Helps Maximize the Value of Automation
Designed as a low-risk approach for new customers, the Quick Start Program lets you explore Eggplant Test's advanced automation capabilities. It helps you assess its potential to enhance the testing process and facilitate seamless implementation of Eggplant within your existing environment. As shown in Figure 1, five essential components constitute the program.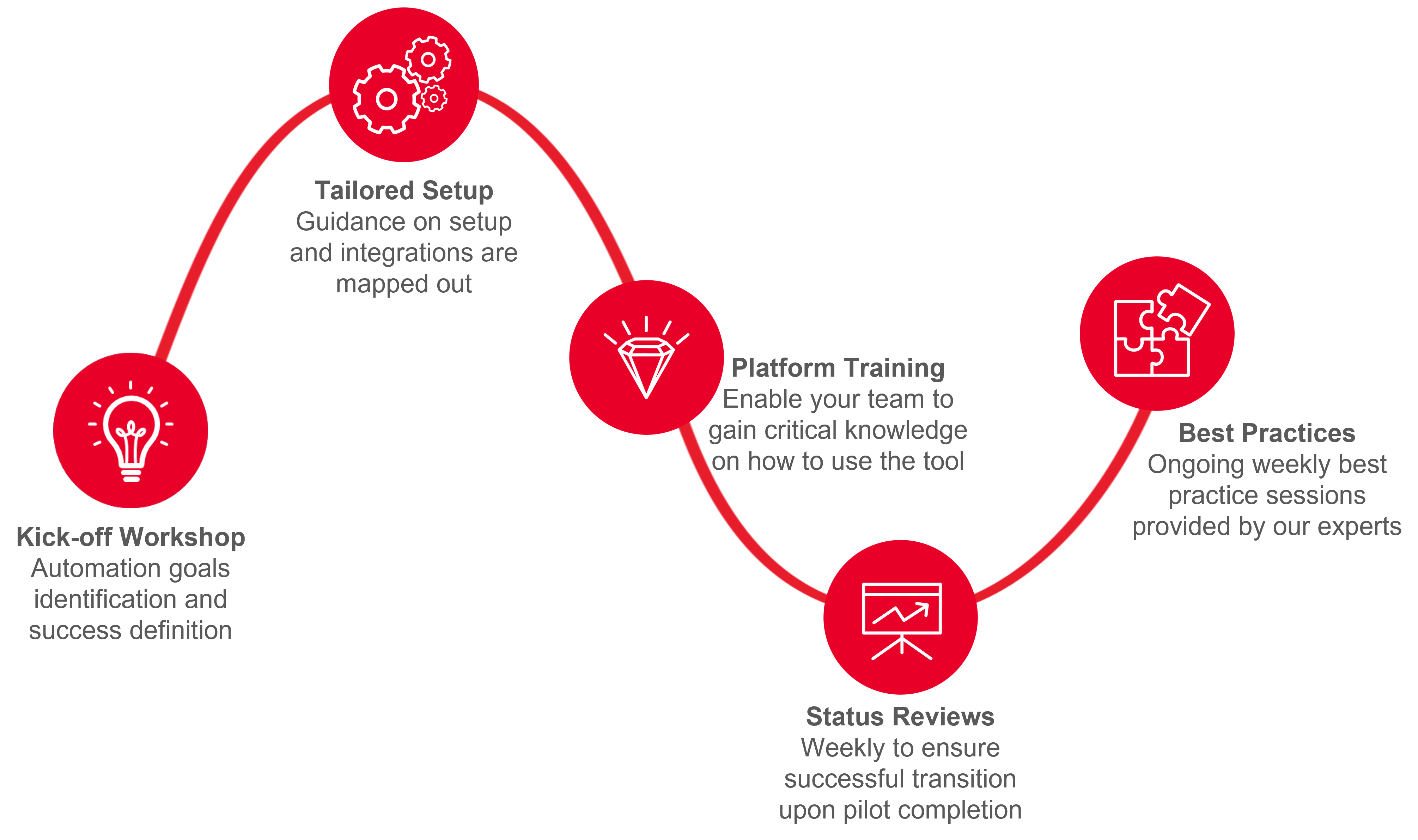 Figure 1: Quick Start Program Overview
Kick-off Workshop
When we chat with our customers, we hear the same frustration expressed by folks across industries: "I don't know where to start." As a result, we have designed the kick-off workshop as a starting point to address these concerns head-on.
Through the kick-off workshop, we work closely with each organization to understand its unique challenges, requirements, and objectives to tailor the setup and implementation. By doing so, we turn guesswork into excitement, empowering every new customer to streamline adoption with higher confidence and reduce time to value.
Tailored Setup
After the kick-off workshop, we will set up the platform while sharing guidance and addressing any concerns or questions you may have. Prioritizing a smooth setup paves the way for your organization to confidently experience all of Eggplant Test's automation features and integrate them into different processes.
Platform Training
One of the biggest reasons our customers, big and small, choose Eggplant Test over other test automation tools is our commitment to user empowerment. With low-code design and model-based testing, we enable business testers and domain experts to begin automation without the need for prior coding experience.
Following this user-centric approach, the Quick Start Program offers platform training, to equip your team with the essential skills and knowledge to use our tool efficiently and effectively.
Status reviews
For the duration of the program, we perform a consistent weekly cadence of status reviews with your organization. We believe these meetings will help your team make the most of the program in at least three ways:
Our team will closely monitor your project's progress and evaluate milestones to keep it on track.
We address questions that may arise, to remove any hurdles keeping your team from experiencing the benefits of automation.
As the pilot nears completion, we will use these reviews to develop a seamless transition to business as usual, enabling you to integrate Eggplant Test easily into your process.
Best practices
We believe sharing best practices is one of the most effective approaches to continuous improvement and long-term success. Therefore, we incorporate best practices throughout the Quick Start Program experience. Drawing from extensive industry experience, our team of experts will provide relevant and up-to-date best practices specific to your industry and testing requirements.
Four Benefits of Eggplant You Cannot Miss
As we all face an increasingly complex and connected digital world, having efficient and robust software testing is more important than ever. If you sign up for our Quick Start Program, you can enjoy the following benefits of Eggplant Test in just three months:
Leverage AI-driven automation to optimize your digital experience and improve business competitiveness.

Drive your testing efficiency by seamlessly integrating automated exploratory testing and fixed regression packs.

Test any technology at every layer on any device, operating system, or platform with Eggplant's platform-agnostic solution

Empower domain experts to be more involved in the testing process.
A Partner You Can Trust to Automate More with Less
Eggplant is a software test automation leader recognized by Forrester. Our foremost priority is to support organizations of all sizes that entrust their projects, careers, and businesses to us.
Our Quick Start Program provides a risk-free opportunity for you to experience all the above benefits of our platform. Take action today – empower your team with the tools, support, and knowledge needed to automate more efficiently, deliver quality software faster, and save valuable time.