The Best of Both Worlds: Integrating Synthetic Monitoring Insights with Application Performance Management
by Colin Marshall, on 10/17/18
Synthetic monitoring is an excellent way to keep tabs on the heartbeat of your platform with alerting offering the assurance that you are always first to react to outages. It also provides a history which enables the identification of patterns in performance which, if unchecked, may turn into outages.
Eggplant's Monitoring Insights solution has long been considered best of breed in this field, with uniquely reliable testing that alerts you to problems before your customers start complaining. In this blog post, we'll look at how to diagnose issues highlighted by synthetic monitoring by integrating with an application performance management solution.
An example
The chart below shows an increase in load time at 06:31 and 22:11. We know that the stock management system runs reconciliation at 06:30 just before the customers start to hit the site. This housekeeping slows the platform which is reflected in the 06:31 blip.

But what about the 22:11 spike?
Customer analytics suggests that this is a quiet time on the platform with low visitor numbers. The step waterfall shows a normal performance pattern apart from the last two steps, which report a longer data start time.

Data start measures the time the server takes to return the first byte of data following a request from the browser.
Looking through the outside lens of a synthetic monitor, we can't diagnose why this is happening. Discovery is a process of combing through the platform logs around the time to spot anything unusual.
Step forward, application performance management (APM) solutions.
These products can be excellent tools to have in the DevOps armory. They attach watchers to nodes within your platform, collecting data and reporting issues.
Back to our 22:31 conundrum. How do we find this needle in the back office monitor haystack? In this example the customer has installed AppDynamics. Luckily, Eggplant's Monitoring Insights solution integrates with AppDynamics.
The process has two phases. Each page test invokes an AppDynamics snapshot. The AppDynamics API is then interrogated to identify the specific snapshot id, and the resultant deep link is recorded against the page test.
At the same time, we also collect the "User Experience" status of the snapshot to further narrow the search: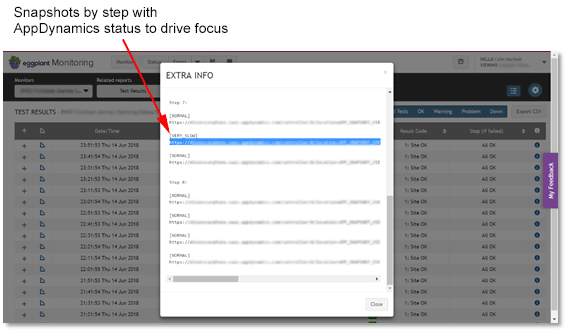 Triple clicking selects the URL text and right clicking offers 'Go to' website:

This opens the AppDynamics snapshot and we can see the issue flagged: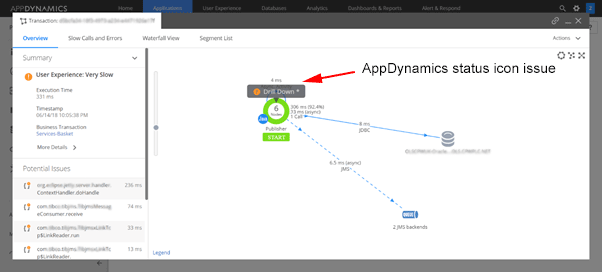 Drilling down into the underlying calls, our problem is highlighted for us: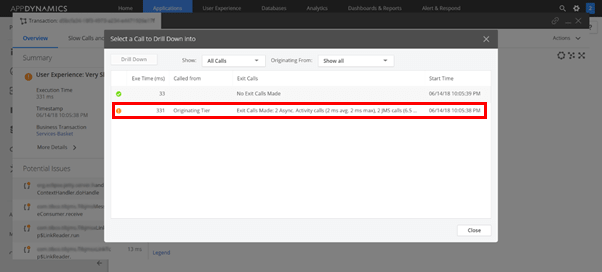 and we discover a handler monopolizing cycles…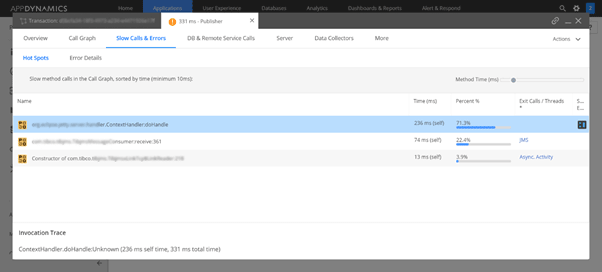 We can then step through the call stack…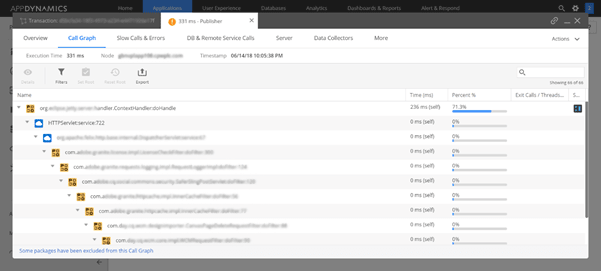 to get to the root cause – in our case, an underperforming endpoint…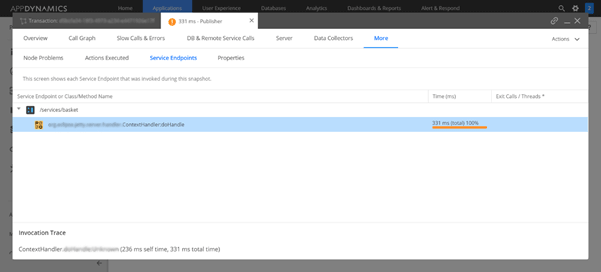 Connecting Eggplant's stable, consistent, repeatable synthetic monitoring with application performance monitoring speeds up problem diagnosis and ensures pre-emptive remediation.
The upshot is that you can have the best of breed solution – a uniquely reliable synthetic monitoring solution that integrates seamlessly with the APM of your choice.
You can learn more about this topic by registering for our webinar.