How We Predicted an Increase in Conversions from a Decrease in Load Times
by Alex Painter, on 3/21/17
One of the biggest challenges we share with our clients is proving the business value of web performance. While it's logical that faster websites mean happier customers and more revenue, it can be hard to provide absolute proof.
We previously relied on publicly available case studies, a fantastic collection of which is available at WPO Stats.
Our Real Customer Insights (RCI) solution - now called Monitoring Insights - has a better answer: predicting the absolute business impact of faster web pages.
The Performance Impact Prediction feature draws on a customer's data to estimate the effects of performance improvements. It takes all the data about visits to the website and builds a model of the relationship between performance and visitor behavior. Enter a new, improved load time, and it will predict changes in conversions, bounce rate and revenue for your entire population or even individual segments (e.g. Android users).
And guess what?
It works.
Faster food
We've been working with quality ready-meal provider COOK, and its agency Redspa, to measure and improve the performance of its website.
During a routine review, we helped identify a significant performance issue on product pages: a server response time which could reach six seconds!
This issue was prioritized and within days a fix had been released. The result was a marked improvement in data start time, reflected in our synthetic monitoring data:

This improvement in performance was reflected across the Real Customer Insights data as well, proving that user experiences had been positively affected by the release: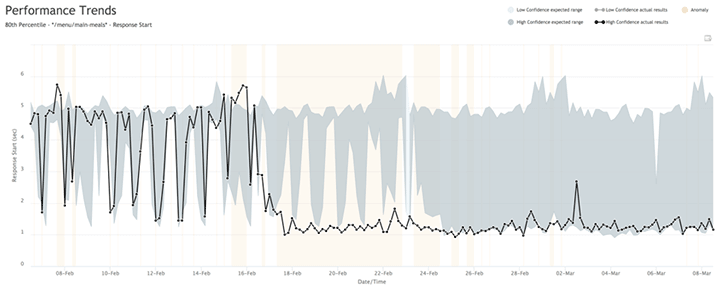 All in all, average page load time improved from 4.8s to 3.95s.
Proving that performance matters
It didn't take any convincing for COOK to improve performance in this case. Nonetheless, we used the Performance Impact Prediction feature in our Real Customer Insights solution to predict the impact it would have: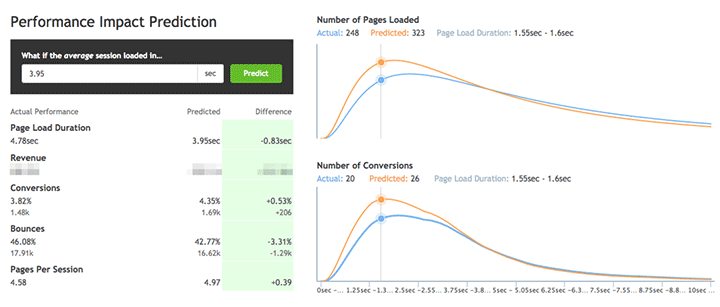 We re-ran the metrics once the change had been in place for a week. The results show that the predictions were extremely accurate, with COOK achieving an increase in conversion rate of about seven per cent:
| | | | | |
| --- | --- | --- | --- | --- |
| Metric | Previous | New | Predicted | Accuracy |
| Conversion rate | 3.82% | 4.09% | 4.35% | 94% |
| Bounce rate | 46.00% | 42.70% | 42.70% | 100% |
| Pages per session | 4.58 | 5.02 | 4.97 | 99% |
We were very pleased to see how close the actual results were to the predicted ones, and delighted to be helping prove the business case for faster websites.
Try Real Customer Insights free.