Optimize Cloud Computing in Healthcare with Test Automation
by Emily Yan, on 3/9/23
San Francisco is notorious for its eclectic ice cream flavors — hibiscus beet, pina colada rum, peanut butter curry, and even charcoal have made their way onto the scene. But, just like choosing a novel ice cream flavor, IT leaders face a similar conundrum when it comes to cloud computing in healthcare. With a multitude of options such as hybrid, public, private, and multicloud, it's becoming more challenging to decide which program fits their organization's digital health innovation agenda while ensuring care quality and efficiency. In this blog, I'll explore the various healthcare cloud solutions, and the important role test automation plays in a seamless transition to the cloud — regardless of which flavor (type of cloud solutions) you choose.
Driving Factors of Cloud Adoption in Healthcare
Cloud computing is well underway in the healthcare industry, growing at 18% in the next four years. According to Forrester's 2023 predictions, virtual machines, 5G, and IoT are the maturing technologies that will empower organizations to move forward with tech modernization based on cloud-native infrastructure. The main driving forces behind this movement include three business demands cloud computing can address: scalability, cost reduction, and interoperability.
Greater Scalability
To say that the healthcare industry is drowning in a sea of data is an understatement. The world's healthcare data is experiencing a 36% annual growth by 2025, contributing to nearly one-third of the world's data.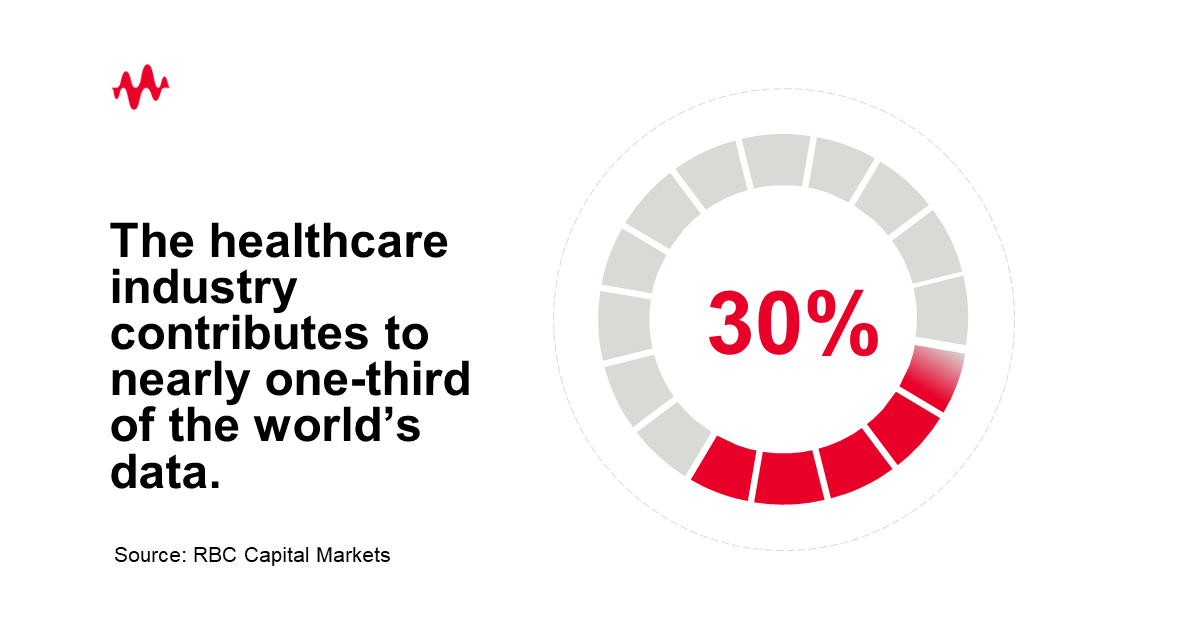 Figure 1. The skyrocketing volume of healthcare data drives the adoption of cloud-based data storage solutions.
The value of all that data depends on an organization's ability to turn it into actionable insights. However, managing large amounts of data from disparate sources is challenging, particularly when using traditional on-premise data storage solutions, which hinders healthcare organizations from timely and effective analysis or leveraging patient data to inform decision-making.
Cloud computing enables healthcare organizations to easily access vast computing resources without purchasing additional hardware or dealing with infrastructure challenges. As a result, it accelerates data integration, leading to more effective clinical and operational decisions. In addition, healthcare organizations can scale up or down demand as their data needs change, making the cloud a more flexible solution in dynamic environments.
Cost Reduction
Purchasing servers, data centers, and other physical hardware can be costly, not to mention the ongoing maintenance, utility, and labor costs to keep them running. This expense can quickly increase if the organization wants to explore digital health technologies like telehealth, which would require additional hardware and resources to cope with the growing amount of data.
Cloud computing can offer a more cost-effective solution for healthcare organizations. With elastic scaling for resources and licenses, the cloud can help organizations save on both upfront and maintenance costs compared to traditional data center infrastructure. Migrating to the cloud at scale can deliver significant annual savings of 20 to 40%, according to Accenture.
Healthcare Interoperability
With the wider adoption of connected medical devices and telehealth, interoperability has become increasingly important. Interoperability refers to the ability to transfer data quickly across systems to facilitate data-driven clinical decisions. Governments worldwide have recognized this need and are adopting interoperability standards to improve access to healthcare data. In the US, for example, the 21st Century Cures Act (Cures Act) requires that healthcare providers enable patients access to their EMR data without delay or charge.
Clouds play an essential role in facilitating healthcare interoperability. Cloud-based electronic medical record (EMR) systems act as a central data hub where physicians can access all necessary patient data, simplifying care coordination across different providers and locations. In addition, major EMR vendors are utilizing cloud technologies to integrate remote patient monitoring, community support, preventive healthcare, and clinical decision support. As a result, healthcare data is now more accessible and actionable for more effective care and advanced analytics applications.
Figure 2. Cloud-based EMR systems can help centralize all necessary healthcare data to deliver actionable insights on both clinical and operational decisions.
Overcoming Testing Challenges in the Cloud Computing Era
The various benefits of cloud computing for healthcare may seem appealing. Still, the migration has brought a new set of challenges to healthcare organizations of all sizes, particularly in software testing. With the cloud's inherent complexity and hyperconnectivity, traditional, manual testing approaches are no longer sufficient to test applications on the cloud and for the cloud effectively.
Integrating legacy and new systems in a healthcare organization's infrastructure is a complex task that requires robust testing across platforms. Within the time constraints, manual testing results in limited test coverage. Automation plays a key role in ensuring the software quality of a mix of native cloud, hybrid, and on-premises systems.
Moreover, in a hyperconnected ecosystem, one small change can impact the performance of multiple systems and apps. Manual performance testing becomes ineffective in identifying where to test and to what extent, which leads to reliability and scalability issues that can impact care outcomes.
Last but not least, moving highly sensitive patient data to the cloud could raise serious security concerns. Misconfiguration of the cloud is a leading cause of data breaches, making it critical for healthcare organizations to implement effective security measures such as authentication, access control policies, and firewalls. Automated testing solutions can help increase testing efficiency, making it easier to identify and address vulnerabilities in those security measures.
Intelligent Test Automation: The Key to Accelerating Cloud ROI
At Keysight Eggplant, we understand the challenges healthcare organizations face when testing their systems in a cloud environment. That's why we provide intelligent test automation that makes testing easier and more efficient at every stage of the cloud journey.
Parallelization
With Eggplant, testing teams can scale test execution in a cloud environment cost-effectively. They can spin up multiple preconfigured test environments that mimic various testing parameters of their systems under test (SUT). This approach enables different software versions of the same application to run on multiple virtual machines or the same software to run across devices, browsers, or operating systems. As a result, testing is faster while also at a lower cost.
AI-Assisted Exploratory Testing
Eggplant's AI algorithm exhaustively tests all possible user journeys through your software, discovering and fixing "unknown unknowns," whether on-premises or in the cloud. This further increases test coverage across multiple systems, ultimately enhancing software quality and security in cloud environments.
Non-invasive Testing
Non-invasive testing means Eggplant can interact with the systems under test via the user interface (UI) rather than by accessing the source code. This process makes it easier to test frequent updates by cloud-based software. Through image recognition and optical character recognition (OCR), Eggplant can test updates at the UI level, regardless of changes in underlying functionality and behavior.
Conclusion
Whether you realize it or not, the cloud hosts a growing percentage of your life. Work, finances, social lives, and an increasing percentage of your healthcare data may have moved onto the cloud by now.
The question is no longer why healthcare organizations need the cloud but how to scale it with the right testing strategy. Learn more about how intelligent test automation can be an efficient and reliable solution for healthcare organizations to migrate to cloud computing.
Learn More
Download the eBook to learn how to test faster, smarter, and more reliably with

AI-powered test automation in the cloud

.

Schedule a free, personalized demo to see how you can accelerate your cloud migration with greater reliability with our low-code, non-invasive platform. 
Just a few more days to Digital Health REWIRED in beautiful London! Stop by our booth #H20 and see how Eggplant can help you overcome testing challenges in the cloud era.