Effortless Performance Testing with Eggplant Performance 9.0
by Gareth Smith, on 12/18/18
Performance testing just got a lot easier.
While delivering quality at scale is essential, simply setting up a performance test can be a challenging and time-consuming exercise, and then you need to analyze it. So, despite its importance, performance testing is not commonly used during development cycles.
"Effortless Performance Testing" in Eggplant Performance 9.0 changes all that, with a simple-to-use load testing capability that re-uses your existing Eggplant AI assets. So you can now run performance load tests on your system with no technical knowledge and no coding.
The process is simple:
In the new "Performance Testing" tab within Eggplant AI, select one or more of your "test cases" and how many users you want to run in parallel for each, and for how long: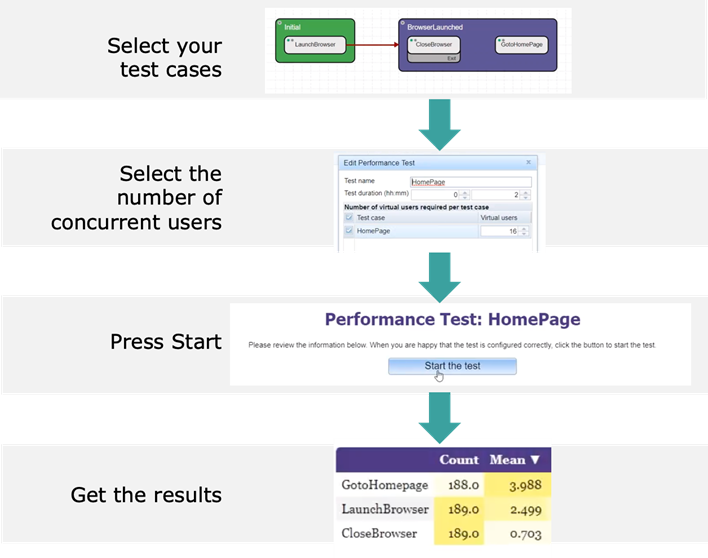 Click run!
After clicking run, you will see the results appearing in real time. The hard work is automatically carried out behind the scenes by Eggplant AI, Eggplant Performance and our hosted platform, and includes setting up the parallel execution engines and the systems under test (SUTs).
This is part of our continued effort to make testing more accessible, so you can focus on the results rather than the process of getting to those results.
Additional capabilities in Eggplant Performance 9.0
In addition to effortless performance testing, Eggplant Performance 9.0 also delivers several other enhancements:
API for test creation—we've extended our existing REST API to allow you to create tests as well as run them.
Support for HTTP/2
Analyzer improvements
Richer status and contextual information in log files to diagnose issues more easily
You can see Effortless Performance Testing in action here:
Learn more about Eggplant Performance | Try Eggplant Performance