Peter Cherns - 25 June 2019
Forrester has recently heralded the rise the of the 'Business Tester' in response to consumers increased demand for flawless digital products. We believe this is more than just a trend, it is an uprising!
Our work with digital pioneers across industries such as Healthcare, Retail and FinTech sees us arm the Business Tester with the tools to shrink software release cycles and make smart decisions. The latest enhancements to Eggplant's Digital Automation Intelligence (DAI) suite, our AI-driven test automation solution, is largely about democratizing intelligent software testing.
Much of this latest release focuses on ease of use – new users will be able to get up to speed much faster, while we've also made it much easier for people with little or no knowledge of testing or coding to get to grips with the product.
Some of the big changes include:
Visual model creation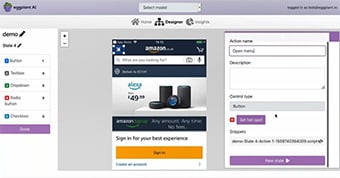 It's now much easier for you to create your first model, without prior knowledge of modelling or scripting.
Simply identify elements in the interface of your app, and all the necessary assets can be generated automatically from a single window.
Snippet editing in the browser
We want to make every aspect of the user experience simpler and more coherent, and if you want to edit the snippets of code that represent user actions in your application, we've now made this much simpler.
A big part of this is enabling you to edit snippets directly in the same interface in which you're modelling, execution, and reporting.
Enhanced reporting on the home screen
This new dashboard pulls together and visualizes all your data in one place, making it easier for you to get an at-a-glance overview of your tests.
We've also made it easy to drill down into individual screens to see more details.
Enhancements to sub-models
We have seen customers making increasing usage of our sub-model capability as they scale up their deployments.
Because of this, we now allow test cases to be defined that flow through sub-models, and have sub-model coverage taken into account in our reporting and execution.
You can find a full list of the improvements and updates, including support for Linux, here. If you're already using Digital Automation Intelligence, it's definitely worth upgrading to the latest version If not, it's the perfect time to try Eggplant!