Increase the speed and accuracy of your test builds with DAI 6.1
by Mike Wager, on 5/5/22
DAI 6.1 is here
Eggplant DAI now streamlines the building of test cases with minimal effort and coding with a new visual, guided approach.
The number of variations to a user journey makes building test cases time-consuming as prior knowledge of an entire application is required. Without this information, testers can often create scenarios that don't reflect a valid user journey, causing the test to fail.
Failures of this kind are typically complex to detect, resulting in many hours wasted searching for the part of the sequence that forms part of an invalid journey.
In the latest release of Eggplant DAI, the way users build their test cases has been transformed. Providing a guided, no-code approach, DAI 6.1 enables users, regardless of technical knowledge, to build test cases with more accuracy and identify errors quickly.
Introducing the new Test Case Builder
Test cases are now easier to build, debug, and run so that you can execute tests faster. The new test case builder intelligently highlights the sequences available for any user journey, accelerating test creation and dramatically reducing errors. Testers can build accurate test scenarios with a guided approach without knowing the accessible user journeys within an application.
A no-code approach streamlines test creation, allowing any team member to develop test cases from scratch. Users can also edit an existing model to save time and accelerate builds further.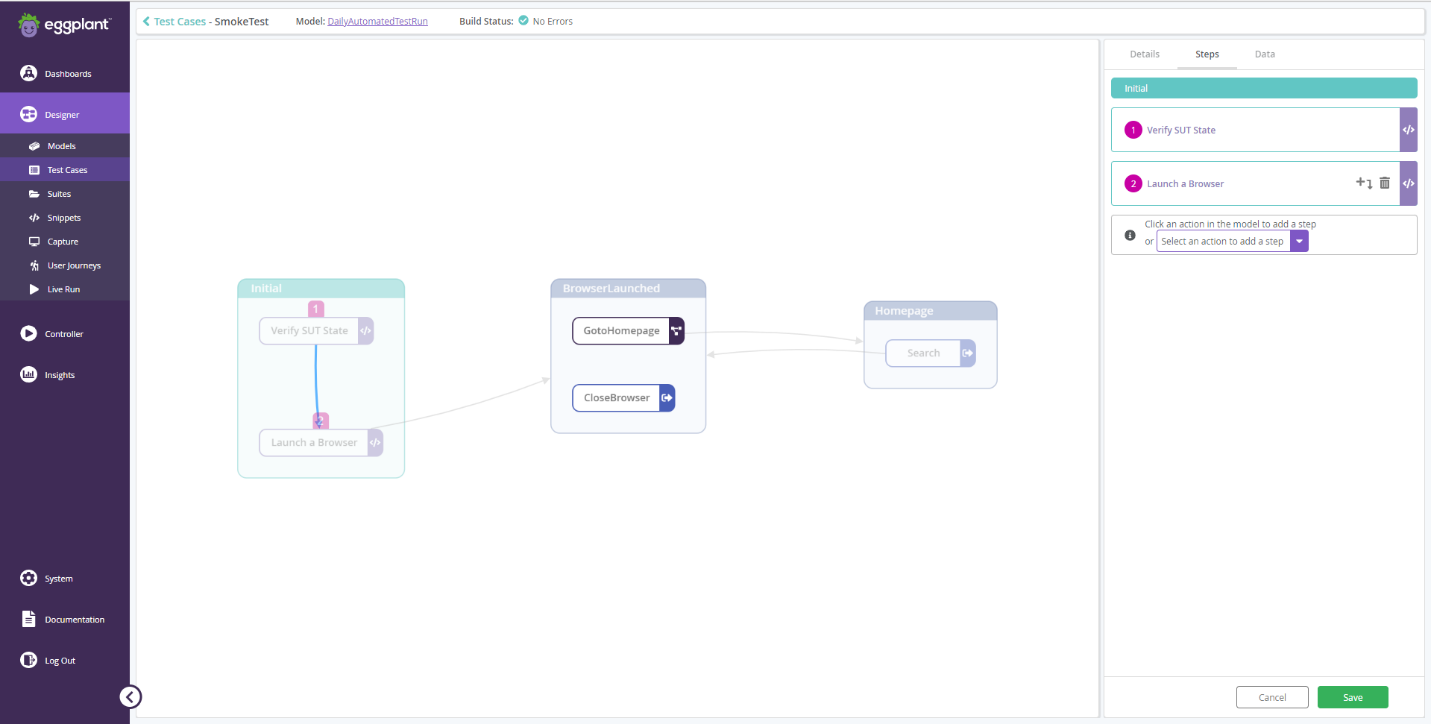 Figure 1. The Test Case Builder highlights the next step in the user journey to indicate which action should come next in the test case.
Find errors quicker than ever before
The new Test Case Builder with built-in validation reduces the time needed to validate your test cases by highlighting errors when data is missing or incorrect. As well as identifying errors quickly, the new Test Case Builder helps you:
Resolve any outstanding issues faster by running the test case against your model in debug mode.

View and analyze pass and fail results for each test case from a single screen.
See DAI 6.1 for yourself
If you're an existing DAI user, you can upgrade to 6.1 by following the instructions in our documentation portal. Users of the browser-based version of DAI will have immediate access to the new features.
If you have any questions or want to connect with one of our test automation experts, please get in touch.
If you aren't yet an Eggplant customer, you can easily sign up for a free trial of DAI here.