by Eggplant, on 3/2/23
In this latest major release of the Eggplant Digital Automation Intelligence (DAI) platform, we've revolutionized the way users execute and interpret tests. DAI 6.0 introduces an updated user interface that allows testers of all levels of experience to identify and isolate problem areas with simple visual cues.
Introducing Live Run and Test Result Visualization
Live Run brings tests to life by highlighting the steps and path taken by any test. This information is also overlayed onto the model as the test executes in real time.
By visually mapping out the tests as they are executed, users can trace the paths taken through the model. This ultimately helps teams to work faster by eliminating the need to examine test execution logs to understand what took place during the test.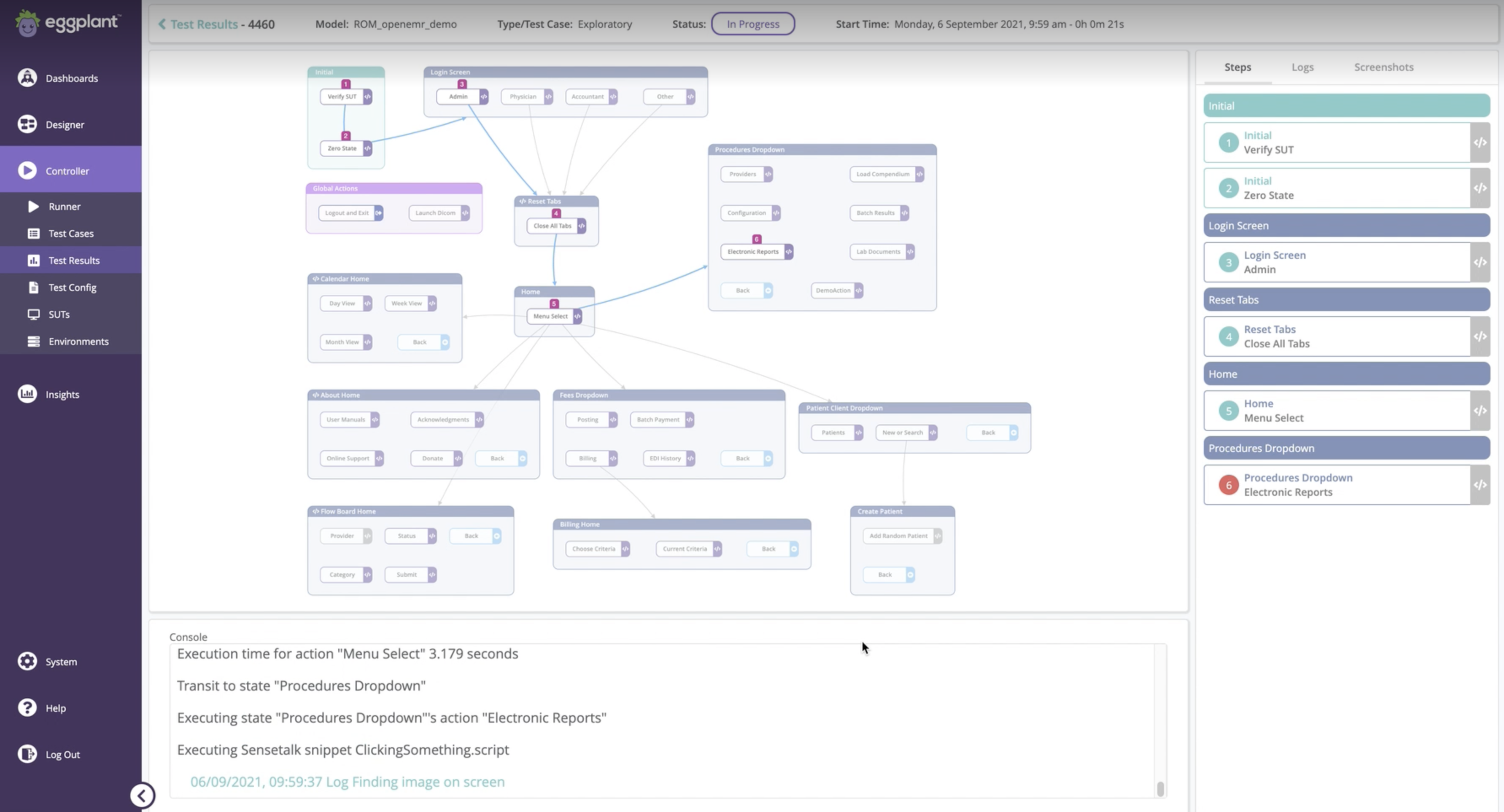 Live Run highlights the actions taken in the testing model (left). Test Result Visualizer indicates the sequence of steps in the panel to the right.
Spot errors at a glance
Naturally, a major part of any test automation workflow is spotting and investigating errors. Experienced users of Eggplant quickly develop a knack for spotting issues within the logs. The Test Result Visualizer removes any doubt and speeds up the process by color-coding steps in test runs that are causing issues, making it easy spot to errors immediately and guiding users to drill down into details from the log data to dramatically speed up remediation. Less technical users are also able to scan test results and quickly take action on errors during their testing process.
This reduces the time typically needed to decipher problem areas and supports efforts to shorten test windows and accelerate software releases. DAI's user interface and easy-to-use canvas streamlines the testing process and makes it easier and faster for users to run automated exploratory tests for broader test coverage of new or previously untested features and user journeys.
See DAI 6.0 for yourself
If you're an existing DAI user, you can upgrade to 6.0 by following the instructions in our documentation portal. Users of the browser-based version of DAI will have immediate access to the new features.
If you have any questions or want to connect with one of our test automation experts, please get in touch.
If you aren't yet an Eggplant customer, you can easily sign up for a free trial of DAI here.