Eggplant helps Line on mission to bring people closer to each other
by Eggplant, on Nov 22, 2022 9:34:13 AM

Line achieves over 60% automation of regression testing using Eggplant Test
Overview
Line Corporation, creator of the LINE messaging, is a business that encompasses development and operation of a wide range of mobile-first services. Line's mission is to bring information & people around the world closer to each other.
LINE was created as a mobile messaging service after the 9.0(Mw) earthquake that devastated Japan in 2011. After the tragedy, it was clear that there was a fundamental need for a global communication tool that could rely on. LINE has grown into a social platform with hundreds of millions of users worldwide, having a particularly strong focus in Asia.
With over 9,200 employees, 193 million MAU (monthly active users) on its messaging app, Line's success didn't go unnoticed. But behind all their success, there is a solid Test Automation strategy only made possible through their partnership with Eggplant. YeonJin Jin, Automation Engineer at Line shared her 3 years automation journey using Eggplant.
Mobile Testing Challenges
We've asked Mrs. Jin, what were some of the challenges she encountered when testing mobile devices:
Time available to upskill QA teams
One of the reasons why Eggplant is chosen as a Test Automation tool by many organisations it's because of how easy is to learn and use Eggplant Test. This accelerates training and onboarding of new hires:
"Initially, we chose Eggplant because of its assisted record and playback features and its language (Sense Talk). Because is an English based language it's easier to learn for those who have less development experience as well as reducing the training costs associated with learning a complex tool or language."
The role of QA Engineers has evolved a lot over the past few years as well as the qualifications required to test different systems. QA used to be very focused on source code testing and therefore, programming knowledge was a prerequisite for a tester. Currently, there are several different tools and methodologies that favour a low code approach to testing whilst maintaining the same quality standards.
"Eggplant's UI and Image-based testing along with Automation was well received by our team. Experienced testers that didn't have much automation experience and for testers that didn't have extensive programming experience both appreciated how the solution could complement their abilities and improve the way they work."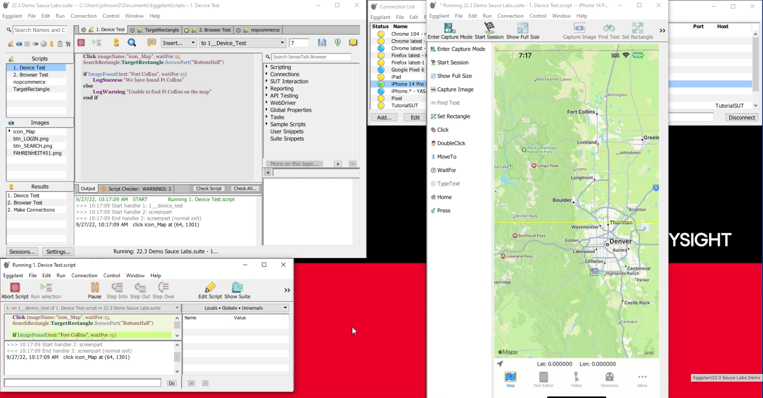 Eggplant can test any real devices remotely, physically or using emulators with its automated image-based testing approach.
The Eggplant Experience
Regression testing

automation
Eggplant has an assisted record and playback that allows testers to capture images of the interface elements and specify the actions that you want to perform. The script is generated automatically, and it works with all applications that have an UI layer, making regression testing a lot easier and faster.
Not only does this give Eggplant the capability to test virtually everything, but the scripts are also much more robust and easier to work with than typical record and playback systems which are tied to a particular development environment or use screen coordinates for the playback.
"We have automated 60% of our regression tests successfully with Eggplant. This allowed us more flexibility on our testing schedule and gave us the ability to repeat running tests 4x times on the execution period."
Great Mobile Experience since the first touch point
Offering great customer experience on a mobile app since the first touch point is incredibly important for a business reputation. Line decided to invest in Test Automation to simplify their registration process. Before Eggplant, Line used to do regression testing manually, but the cost and time associated with manual testing was not compatible with their UX strategy and growth objectives.
"Testing the registration of our mobile app involves several systems: the app itself, the SMS verification application, our backend, and the APIs. The biggest advantage of using Eggplant Test is that we can do End-to-end regression testing on all these systems simultaneously in a consistent and automated way. We can provide excellent UX whilst gaining agility with our releases."
Key outcomes
With the help of Eggplant's powerful software & expertise, Line was able to accelerate their testing cycles and automate most of their regression tests. Not only they were able to improve their QA strategy with automation, but they did it without hiring additional testers, which resulted in sizeable savings of time and money.
After implementing a solidified mobile testing automation strategy, ensuring the day-to-day operations proceeded according to plan and with the help of Eggplant Test, they were able to achieve incredible outcomes.
Found over 50 bug/errors last year with automated tests

Guaranteed the best possible experience on Line's app

Over 60% automation for regression testing.

Increased the repetition of running tests by 4x during the execution period

Ran more tests with the same amount of people and in less time