Bosch Sensortec ensures confidence in its resourcing decisions with Eggplant Test and Services
by Eggplant, on Mar 8, 2023 6:50:48 PM

Eggplant Services helps Bosch Sensortec improve consistency of testing for mission critical tool and upskill their QA team with automation best practice.
Overview
Bosch Sensortec is the technology leader in sensing solutions based on Microelectromechanical Systems (MEMS) and is dedicated to the consumer electronics world. Their success in MEMS sensors and solutions is built on a remarkable team driven by passion, innovation and flexibility.

Bosch Sensortec's MEMS technology is responsible for improving people's lifestyle and well-being and can be found in every leading brand of smartphone, tablet, wearable, AR/VR and IoT. Behind their complex engineering and manufacturing line, they also rely on software to make sure everything works as it should.
Testing Challenges
We spoke to Oliver Lenz, Project Manager at Bosch Sensortec to understand what challenges they were facing and how that led them to engage with Eggplant Test Software and Services.:
Accurate data-driven decision making
Oliver explained that their team uses a resource management application called BRAIN, which handles a large amount of information. The accuracy on this tool is extremely important, since the data that is reported on helps the business make important resourcing decisions, such as when and how many people to hire. Making the wrong decisions here would have significant consequences both financially and from a human resource perspective so mistakes must be avoided at all costs.
"During the ongoing development of our web application, the BRAIN, and a steady increase in its complexity, we realized that our current test system no longer met the more advanced requirements. Especially the implementation of test cases, as the current test system was no longer reasonable due to our busy delivery schedule.
At this point in time, we collected our requirements, conducted market research and finally ended up in an evaluation of Eggplant on our IT infrastructure. After promising discussions with the sales team, Eggplant was introduced. Later we wanted to learn how to use more complex test features, best practices and to upskill our QA team so we could improve our testing strategy. Hence why we've decided to partner up with the Eggplant Services team."
Optimization of testing time
Due to the ever-increasing volume of this data, it was becoming progressively more challenging and time-consuming to validate this data, taking many hours of engineers' time and preventing them from being able to perform other high-value activities.
"Working with the Services team using Eggplant Test Automation allowed us to have more flexibility and test more in less time. Not only we were able to reduce the testing time from hours to minutes, but there has also been a huge improvement in consistency and confidence in new software releases."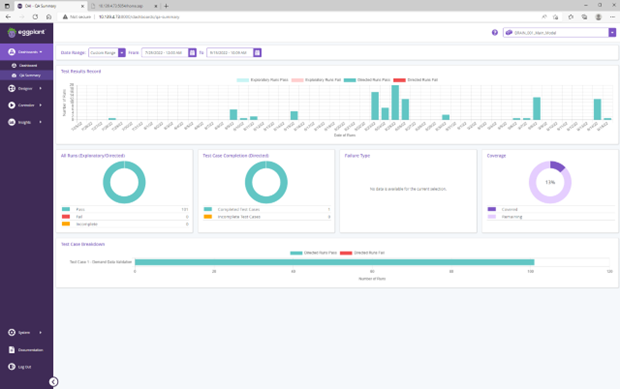 Eggplant Test's reporting capabilities gives the user one dynamic dashboard to get all the information they need.
The Eggplant Experience
Given their requirement to release updates to BRAIN on a monthly basis, Bosch Sensortec chose Eggplant Test as their software test automation tool to improve the speed and coverage of their testing. Once the team had been through their Guided Adoption program and were up-and-running using the software, they identified an opportunity to really accelerate their time-to-value by engaging Eggplant Services.
Using the Eggplant Services "Augmentation" solution, they would be able to fully embed their understanding of how to implement test cases to get the best outcomes for the business.
Development cycles are complex and often involve different teams that often don't work on the same time zones. This was the case with Bosch and having someone on hand to help whenever required was a key factor on their journey with Eggplant.
"Being able to speak to a member of the team whenever needed was useful due to our QA team's location. They would be able to liaise with the Eggplant Services team without time-zone limitations which allowed us to complete our project much sooner."
Whenever someone is tasked to learn a new technology, regardless of how simple it is, there will always be a learning curve that impacts the velocity of desired outcomes. Eggplant Services has a series of options tailored to each customer's needs and priorities to accelerate the achievement of these outcomes.
"Learning directly from Automation experts using Eggplant Services enabled our team to fast track their learning, adopt best practices as well as seeing the value that Eggplant Test could have in future projects."

Eggplant Services Augmentation program allows organizations to fully embed best practice and accelerate their time-to-value
Key outcomes
Among the benefits that Bosch Sensortec realized through working with Eggplant Test and Services, those that provided the most tangible benefits to their business have been:
Reduction in testing time from hours to minutes.
Improved coverage and reduced time spent investigating errors.
Quicker return on investment from the Eggplant Services team writing and delivering test cases.
Adoption of best practices and increase in confidence for the quality of new releases.