Peter Cherns - 21 February 2019
There are two things you should know about the latest release of Eggplant AI, our intelligent test automation solution.
1: It will give you much greater insight into the quality of your releases.
2: It will make your testing process more focused and more efficient.
How are we doing this?
Predictors in Release Insights
Click on the Release Insights button and you will now see Bug Content and Dev Quality predictors.
These do something very clever.
Drawing on data pulled from Build (Jenkins), Requirements (JIRA, Redmine), and Source Code (GIT) systems, the predictors score the current project according to the number of undiscovered defects the known risk factors associated with checkins.
This gives you a much better understanding of the quality of your software prior to release. The result is that you're better able to ensure that each release is a step up in quality from the last.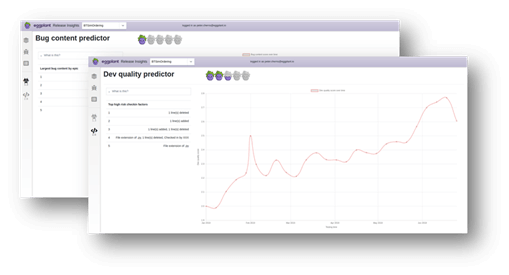 Automate testing of what really matters by homing in on newly updated features
You might know that Eggplant AI works by picking a path through your model that maximizes test coverage and actively seeks out the root causes of bugs.
Now, you can set a 'last updated' time for different parts of your model, which will cause Eggplant AI to disregard test coverage that occurred before the update. This means that Eggplant AI will give greater weight to testing the element that's changed.

Finer control with enhanced support for test cases
We've made it easier to manage and report on test cases directly within Eggplant AI.
This both provides greater insight into the testing process and helps bridge the gap between our automated, model driven, approach to testing and the more traditional test-case focussed approach.
This means you can:
View and run all test cases relating to a specific process
See a detailed description about why a particular test case has been defined and its intent
See how many of the high-priority test cases have been or are yet to be run

More flexibility with configurable coverage models
You can now define exactly how you want coverage to be analyzed and presented. This could be as simple as using a different naming convention or mean the addition of a fifth order coverage model.
This release shows how we're improving Eggplant AI to make it easier to fit in with traditional functional testing processes at the same time as taking it to some exciting new places in test automation. This is in line with our mission of helping you to create software that truly delivers on user requirements and business outcomes.
If you're already using Eggplant AI, you can download Eggplant AI 2.3 here. If not, this is the perfect time to Try Eggplant!