Surviving Black Friday: Why Avoiding Outages Is No Longer Enough
by Eggplant, on 7/24/18
If you're an online retailer, there's a good chance you're busy gearing up for the pre-holiday rush. Black Friday and Cyber Monday have been pushing retail sites to the limits of their ability to cope with surges in visitor numbers.
Those who fail on the day find themselves on the receiving end of a merciless social media backlash, suffering not just loss of revenue but also reputation, which is why performance testing is so critical. Understanding how a site will perform under pressure well in advance of the real peak gives organizations the chance to implement fixes and make sure everything will be up and running on the day.
But in carrying out such tests, it's crucial to be clear about what the objectives are. Ops teams will be concerned primarily with availability — and that's important. If the site is down, frustrated shoppers can't use it.
But what if it's slow?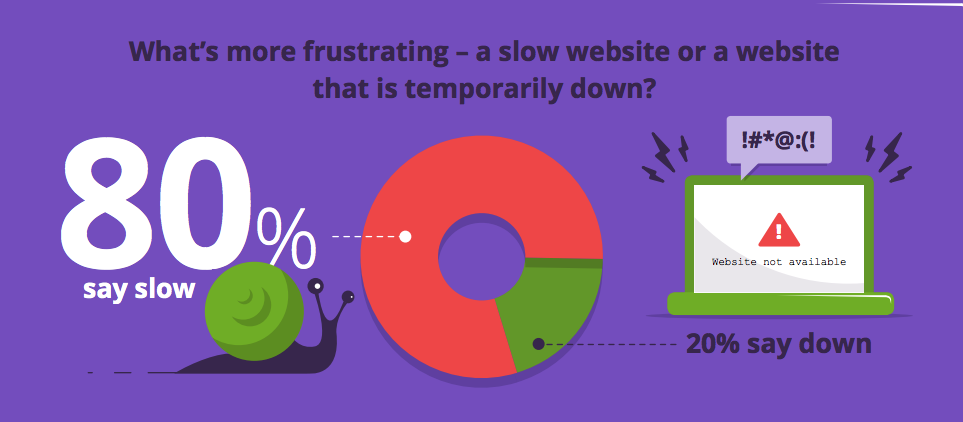 A recent YouGov poll found that 80 percent of consumers find a site that is consistently slow more frustrating than one that is temporarily down. Indeed, 73 percent would be likely to try an alternative website if the one they were using was slow. View and download the infographic for details.
All this means that retailers may have to rethink their approach to performance testing. Notions of what constitutes an acceptable slowdown may have to change. Just how much will vary from one retailer to the next. And that's where solutions such as Real User Monitoring (RUM) come in. RUM shows you how changes in your website's speed affect your visitors' behavior — as well as KPIs such as conversion, bounce rate, and revenue. You'll need to factor all of this into plans for Black Friday promotions. If your performance tests suggest you can't avoid an average slowdown of, say, two seconds when traffic hits peak, you may need to revise your sales forecasts downwards. Or, you may wish to modify your campaign plan to smooth out the peak in visitor numbers.
A better alternative is to actively optimize your site for speed during peak. You may be able to avoid a slowdown altogether or even achieve faster load times — and therefore better sales — when you most need them. There are a number of strategies you can adopt to achieve this without having to overhaul your entire site. For example, you could focus on aggressive optimization and ambitious performance targets for the home page, campaign landing pages, and key user journeys.
The point is that it's not enough for your website just to be up — to make the most of Black Friday traffic, you need to understand the impact of speed and make sure you're fast enough to maximize conversions and revenue.
Your competitors will hate you for it.
Make sure your website performs when it matters. Register now for our upcoming webinar, "The Seven Deadly Black Friday Sins and How to Avoid Them."