5 Reasons to Attend Keysight Eggplant Healthcare Huddle
by Emily Yan, on 2/14/23
The Keysight Eggplant Healthcare Huddle Series officially kicks off on March 7, 2023. This monthly online event offers a unique blend of learning opportunities, insights from experts who are seasoned test automation pros, and live demonstrations for those looking to brush up on their testing skills.
Whether you are a software testing engineer, an electronic medical record (EMR) expert, or just curious about innovations that optimize patient experience, you will walk away with new ideas and techniques for facilitating value-based care in a digital era.
The following are the top five reasons to join us.
Topic: Powering Patient-Centric Care
From AI to IoT, new technologies are driving healthcare to be more patient-centric. Doctors can make better clinical decisions faster with improved access to patient data. With telehealth, doctors can communicate with and monitor patients efficiently at various locations. Every organization is looking to keep up with the speed of innovation while ensuring the quality of care.
Our Powering Patient-Centric Care topic covers various ways test automation can optimize patient care quality — enhancing software quality and security, reducing time to care, and providing a better digital experience for continuous care. Join us to hear stories of forward-thinking healthcare leaders who use Eggplant solutions to modernize their testing strategies, making patient care more accessible, effective, and reliable.
Test Automation Experts and Thought Leaders
Register today to hear from Eggplant experts who understand the healthcare industry's unique requirements and constraints. They plan to share best practices, tools, and team processes that can help you maximize the benefits of test automation for your organization in the most simple and secure way.
Here's a glimpse of the featured Keysight speakers:
Anne Foster, Eggplant technical consultant manager with a wealth of healthcare industry knowledge.
Doug Simons, the inventor of SenseTalk scripting language.
Dave Hester, Eggplant technical consultant with 21 years of EMR implementations.
Automation for Every Skill Level
Whether new to test automation or a quality assurance (QA) guru, we have assembled speakers and content to ensure you leave with actionable knowledge to take your software testing strategies to the next level.
There will be episodes for EMR analysts to learn from QA professionals who have improved the user experience for patients and physicians across multiple platforms without scaling costs.
Every episode includes a live demo so QA engineers can discover the best practices for model-based testing, AI-driven exploratory testing, and other latest innovations in test automation.
IT team leaders will gain insights on how to future-proof their testing and operational strategies, manage workforce challenges, unlock the power of robotic process automation (RPA) at scale — and much more.
Networking and Community Opportunities
Last but not least, the Healthcare Huddle Series is just as much about the community as the technology. Not only will you have plenty of chances to ask live questions and interact with our speakers, but there are also lots of opportunities to network or follow up via our online forum or user groups.
Learning Something New in 15 Minutes or Less
An article from Dive Brief has proven that learning in short bursts is more effective, so the discussions are only 15 minutes.
Save your seat now for our first Healthcare Huddle on March 7: Prescribe RPA 2.0 to Treat Healthcare Worker Burnout!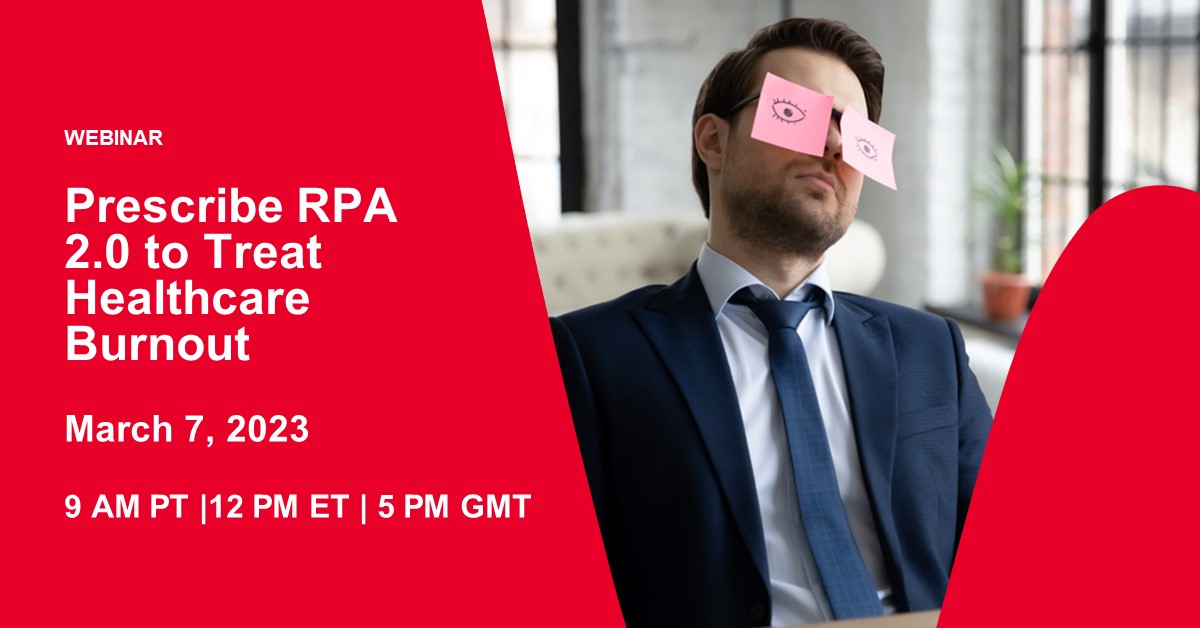 Happy learning!