Pamela Gillaspie - 30 January 2017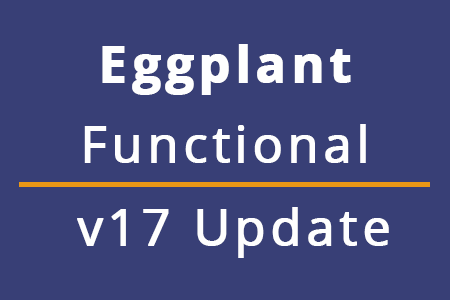 Recently, we released eggPlant Functional v17, which introduces a variety of productivity features. Heavily inspired by user requests, v17 contains a little something for everybody…
The cross-platform tester. We know that a lot of our customers use helper suites to organize their related test assets across platforms– and that working on several suites at once can get messy. That's why we've added the option to view helper-suite assets within your main suite window. This is a favorite around the Boulder office, and a favourite in the London headquarters.
The star reporter. We've added movie recording on the system-under-test, which you can use both manually and within your scripts. (Tip: If you've customized your Viewer window toolbar, you won't see the new Record Movie button by default, but it's waiting for you in the Customize panel.)
The exploratory & manual tester. Along with eggPlant Functional v17, we've released an update for our eggMan manual testing tool. The latest improvements in the eggPlant Functional Viewer window and Connection list are now also available in eggMan, including movie recording.
The Linux fan. For v17, we now run on 64-bit platforms. This is an upgrade for Windows, Mac OS X, and Linux versions of eggPlant Functional, but it's the Linux folks who will especially enjoy the improved ease of installation.
The rest of us. Performance is a little zippier, SenseTalk is a touch cooler, and we've got a few more usability enhancements up our sleeve. As always, I invite you to download the latest and see for yourself!
Happy Testing,
Pamela
[Webinar] The key new features in eggPlant Functional v17 - Register now